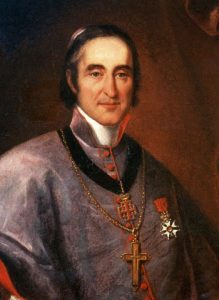 Pompallier Catholic College is named after Bishop Jean Baptiste Francois Pompallier who led the first group of Catholic Missionaries (Marists) who belonged to the Society of Mary, from Lyons, France, to New Zealand.
Arriving in the Hokianga with three Marist Priests and Brothers in 1838, he quickly set about learning the Māori language and meeting the needs of Catholics already present in New Zealand. This early group of missionaries went on to establish churches, health, and education services throughout New Zealand. Pompallier was the first Catholic Bishop of New Zealand.
The College was founded in 1971 after fund-raising among Northland Catholic Parishes. Fr Jack Sloane sm, Parish Priest of Whangarei, had encouraged (along with his community of Marists) the Society of Mary to set up a private Boys' Boarding School, which was owned, staffed and administered by the Society of Mary – its foundation staff were Marist Fathers and Brothers.
Responding to local needs and changing circumstances, the College became co-educational in 1977. This is also the year the Marist Sisters arrived to help staff the College. The boarding facility was closed in 1981 and in the same year the College was gifted to the Bishop and Diocese of Auckland, and became a State-integrated Secondary school administered by a Board of Trustees.
In 1989 the Marist Sisters departed the College.
An attached Intermediate was opened in 1995, and the Marist community of Priests and Brothers departed Pompallier in 1998.
In 2002 Bishop Pompallier's remains were disinterred from his homeland of France and, after a hikoi, which included a visit of his casket to Pompallier Catholic College, was re-interred at Motuti on the shores of the Hokianga Harbour on 20 April 2002.
We are now known as a Year 7 – 13 State integrated co-educational Secondary School.